The Casa Pasta Experience
Our Menu
Prepare your taste buds for an unforgettable culinary journey. Our menu is an exploration of Italy's diverse and delectable cuisine. Here's a glimpse of what awaits you:
Antipasti
Kick off your meal with a selection of mouthwatering antipasti, including bruschetta, carpaccio, and Caprese salad.
Savor the prelude to an extraordinary dining experience with our tantalizing array of antipasti. From the vibrant flavors of bruschetta to the delicate essence of carpaccio and the refreshing allure of Caprese salad, our selection is a celebration of exquisite tastes. Indulge in the perfect start to your meal as you explore a symphony of Italian flavors thoughtfully crafted to awaken your palate and set the stage for an unforgettable culinary journey.
Pasta Perfection
Indulge in the comfort of homemade pasta, prepared to perfection. From classic cacio e pepe to our signature pasta alla ruota, every pasta dish is a delight.
Experience the epitome of pasta perfection at our restaurant. Dive into the world of homemade pasta, meticulously crafted to tantalize your taste buds. From the timeless elegance of cacio e pepe to the unique charm of our signature pasta alla ruota, each dish is a testament to excellence. Delight in the symphony of flavors, textures, and aromas woven into every bite, promising an unforgettable pasta experience that embodies the true essence of culinary mastery.
Secondi Piatti
Explore a diverse range of entrées, featuring fresh seafood, succulent meats, and vegetarian options. Try our Branzino or the delicate flavors of our 16 oz rib eye steak.
Delve into a world of culinary excellence with our captivating selection of secondi piatti. From the freshness of seafood to the succulence of meats and enticing vegetarian options, our menu boasts a diverse array of entrees. Experience the delicate flavors of our Branzino or indulge in the richness of our 16 oz rib eye steak. Each dish is meticulously crafted to offer an extraordinary dining experience, presenting a symphony of tastes that cater to every palate.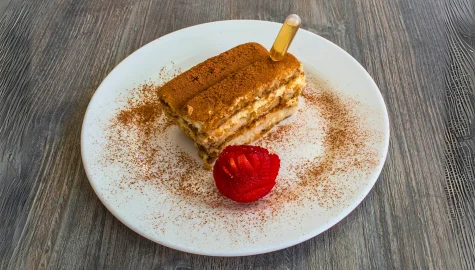 Dolci – Sweet Endings
No meal is complete without a sweet ending. Our dessert menu features tiramisu, panna cotta, and other heavenly delights.
Indulge in the divine decadence of our "Dolci – Sweet Endings" section, where every meal culminates in sheer delight. Our dessert menu showcases exquisite delights such as the classic tiramisu, velvety panna cotta, and an array of heavenly confections. Treat your palate to the perfect conclusion, savoring these sumptuous offerings crafted to deliver an unforgettable sweet finale. Experience the essence of culinary perfection in every spoonful, ensuring that your dining experience reaches its ultimate crescendo with our tantalizing selection of delectable desserts.
Our Wine List
Complement your meal with a selection from our extensive wine list, featuring a variety of Italian and international wines. Our knowledgeable sommeliers are always on hand to guide you to the perfect pairing.
Elevate your dining experience with the finesse of our "Our Wine List" section. Enhance every flavor and sensation with a diverse range of Italian and international wines meticulously curated to complement your meal. From robust reds to crisp whites, our extensive selection offers the perfect pairing for every dish. Let our knowledgeable sommeliers be your guide, ensuring an impeccable match to elevate your culinary journey. Delight in the symphony of flavors as you explore the world of wines, adding an extra layer of sophistication to your dining affair.
Brunch / Lunch
Indulge in a delightful midday experience at our restaurant with our exquisite Brunch or Lunch offerings. Choose from our diverse à la carte menu, featuring a tempting array of dishes prepared with fresh ingredients. For those who crave variety, our sumptuous brunch buffet awaits, brimming with an array of delectable options. Elevate your brunch with our boundless mimosas and Bloody Marys, the perfect accompaniments to a leisurely meal. Whether you're seeking a relaxed weekend brunch or a quick, satisfying lunch, our menu and unlimited drink options are sure to delight your palate.
The Casa Pasta Ambiance
Step into our restaurant, and you'll be transported to an elegant yet inviting space that perfectly complements the flavors on your plate. Our warm and artistic interior, adorned with art gallery-like décor, sets the stage for a memorable dining experience. Whether you're celebrating a special occasion or enjoying a casual night out, Casa Pasta offers the ideal atmosphere.